Kneader / Mixer Machine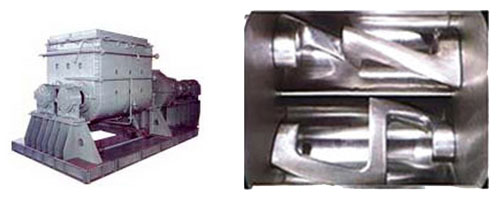 Kneader / Mixer Machine with Sigma Blades
CAPACITY 0.5 LTR. TO 2500 LTR.
Send Enquiry
Kneader/Mixer Machine manufactured by Amin Machinery Pvt. Ltd (AMIN) have two Sigma Blades which are most widely used in Kneader/Mixer machine Design.

The Sigma Blades Kneader/Mixer is capable of starting and operation with either liquids or solids or combinations of both. Modifications in blades – face, design have been introduced to increased particular effects, such as shredding or wiping. The Sigma Blades have good mixing action i.e. thorough mixing, readily discharges materials which do not stick to the Sigma Blades, and relatively easy to clean when sticky materials are being processed.
The Sigma Blades used in "AMIN" Kneader / Mixer are tangential blades and are run at different speeds, with the advantages of faster mixing from constant change of relative position, greater wiped heat-transfer area per unit volume, and less riding of material above the blades.
For "AMIN" Kneader/Mixer machine with Sigma Blades, mixing action is combination of bulk movement, smearing, folding, dividing, and re-combing as the material is pulled and squeezed against Sigma Blades, Saddle and side walls. The Sigma blades are pitched to achieve "End-to-End" circulation. Rotations of Sigma Blades are such that material is drawn down over the Saddle. Clearances are as close as 0.5 mm.
"AMIN" Kneader/Mixer machines are Title d for discharge, to achieve 100 percent discharge and thorough cleaning between batches. Generally for Kneader / Mixer machines upto 200 Ltrs. capacity, the tilting mechanism is manual and over 200 Ltrs. capacity by Hydraulic Cylinders and Power Pack Unit.
"AMIN" Kneader/Mixer machines are provided with Water-cooled jacketed trough Body manufactured from M.S./SS:304/SS:316, For Sigma blades shafts are provided with anti-friction bearing, with properly designed seals and packing glands. Sigma Blades are driven through A.C. Electric Motor, Flexible Coupling/Fluid Coupling /Geared Couplings and open spur gearing mechanism.
Send Enquiry
Amin Products Range
Our Clients