Electrical Control Panels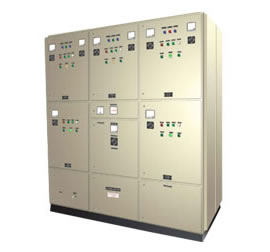 Send Enquiry
Catalogue
AMIN MACHINERY, One of the biggest manufacturer of low voltage Electrical & Electronics Control / Power panels / Electrical Enclosure, started its operation 1972. It commands a major market share in its product range category.
We are engaged in offereing wide range of Industrial Panels like AMF/DG Panels, Precision-Engineered Panels, MCC Panel, Control Panel, Main Panel, L.T. Panels, Feeder Pillars, Synchronisation Panel, PLC panel and AC Drive Panels and Machine Automation.
Major strength of Amin Machinery is modern manufacturing facilities which include sheet metal workshop equipped with shearing Machine, Plate Bending Press Break Machine, Painting technology with bake up oven, tool room quality control systems including Test Benches as per IS and IEC standards and well equipped design center. In addition to above modern equipment & machinery, we have skilled manpower, highly qualified experienced Engineers, supervisors, Inspector & services technicians for providing prompt & best services after sales requirement, also we have design center, which design the panel to meet the client's requirement. In addition to above, we manufacture panels strictly adhering to the relevant IS / IEC standers, electricity rules and other applicable Specifications prevalent and as updated from time to time in this respect.
Our Range of Product is as per follows :
Motor Control Center (M.C.C.) / (Power Control Center (P.C.C.) :
Bus bar rating upto 3000 Amps.
Compact compartmentalized design, extension on either side in future.
Selection for top/bottom cable/bus duct entry.

Send Enquiry
L.T.Distribution Boards / Switch Boards / Feeder Piller
Design as per customer suitable size / specification.
Floor / Wall Mounting option as per requirement.
Automatic Power Factor Correction (A.P.F.C./ Capacitor) Panel
Ability to maintain a consistent high Power Factor.
Eliminates the panelty of low power factor levied by electric utilities.
Facility to select different Capacitor Bank for selection. Up to 400 KVAR.
Auto / Manual mode selection Facility. Increase life of Capacitor.

Send Enquiry
Diesel Generator Set Control Panel
Control panel suitable up to 1500 KVA capacity
Choice for parallel operation (synchronizing operation)
Auto Mains Failure (A.M.F.) Panel. Digital, Analogue, Process Parameter
Battery Charger panel.

Send Enquiry
Process Automation (Instrumentation) Control Panel / Desk
PLC Based suitable for I/O Application, Optional with MMI Interface Keypad.
AC/DC Drive Based Suitable Complete with input Choke, In Line & Load Harmonic Filter, Facilty to Synchronizing two or motoe with techo/encoder feedback option, Interlock with other process.

Send Enquiry
Control Desk with MIMIC Display option with different sizes.
Panel Boxes (Ready to wire), Terminal Junction Box , PB Station, Bus Duct.
Different Size up to IP 65 Protection.
Floor / Wall / Pedstal Mounting option.
We undertake modification (Renovation) job of existing old system (Panels) to new system, which suits to all latest specification.
Amin Products Range
Our Clients